YEAR 2013 - 2018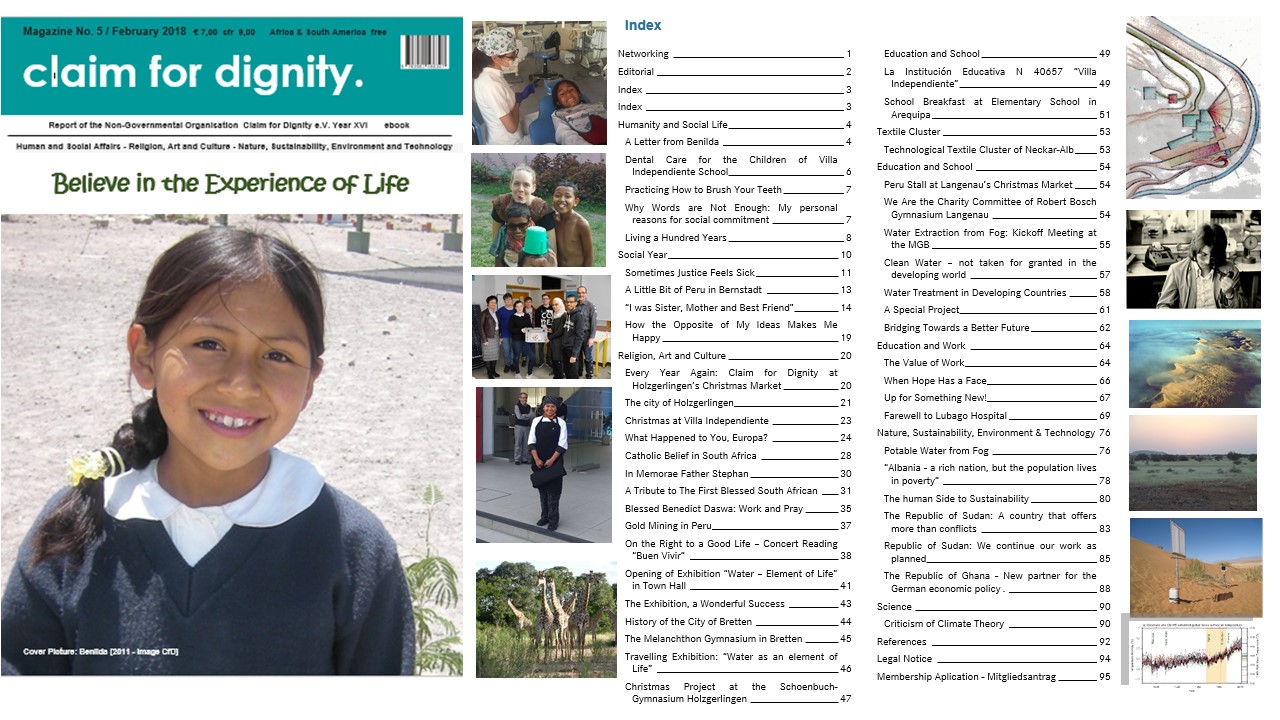 Year 2011
CexDe Nr 32 (published January 2013)
GOOD JOURNEY!, ¡BUEN CAMINO! It is impressive to see how pilgrims - who do not know each other- wish every fellow pilgrim a Good Journey!, ¡Buen Camino!
OVERCOME THE DISENCHANTMENT Distinguish the permanent from the transitory, the truth from the deceit, love from the selfishness, freedom from the slavery, God from the idolatry

A SPECIAL YEAR BEFORE ME
The volunteers 2012-2013 introduce themselves
CexDe Nr 31 July – September (published November 2012)
PANAMA AND "WELTWÄRTS"
Neither "fund raisers" nor "intermediary service providers", but mentoring and mutual growth supporters.
MERCEDARIAN RELIGIOUS IN THE NEIGHBOURHOOD OF EL CHORRILLO (PANAMA)
Today the Mercedarian spirit continues to liberate other forms of human bondage as ignorance, hunger, abuse and violence wherever they may be found
AFTER ONE YEAR IN PERU
How is it possible that huge shopping malls like those in the United States are arising in Peru at the same time that there are people with no water supply at home?
CexDe Nr 30 April – June (published June 2012)
TWO EXHIBITIONS: LIFE AND WATER
We wish that these exhibitions help us to live more awake and watchful in our day by day
ONE YEAR IN ANOTHER COUNTRY
Carolin and Sabrina in Peru; Inez and Verena in Panama
AN EXPERIENCE FROM PERU: LITTLE IS VERY MUCH
Report from the visit to Peru from Aleix Layola (Barcelona)
WATER
The results so far indicate that heavy metal levels in the area's drinking water are below the very
strict German limits for heavy metals in drinking water.
FILM PROJECT ABOUT THE SCHOOL PARTNERSHIP WITH AREQUIPA
What I have learned in the course of this project, and probably the others as well, is how fortunate some people are.
MUSIC AS A SPIRITUAL
NOURISHMENT
Our principal task is to permit to children and youth people, with lack of economic resources, access to the virtues world of classic music. Our immediategoal is that each interested children
can get instrumental classes, as well as an appropriated instrument
Year 2010
CexDe Nr 28 October - December
A PRESENT FOR CHRISTMAS
This award is a major recognition to those contributing to the project
HELP SO THEY CAN LEARN TO BE HELPLESS?
Ideas from my thesis 2010
The meaning of community-based social work in the slums of La Mansión in Peru - A pedagogical approach in respect of development cooperation
WHAT TO DO WITH TWO MONTHS OF UNUSED VACATION?
CLAMOR POR LA DIGNIDAD - PERU
The three organizations – in Peru, Germany and Spain- are legally and functionally independent
THE MEANING OF COMMUNITY-BASED SOCIAL WORK IN THE SLUMS OF LA MANSIÓN IN PERU
In terms of development cooperation the people concerned need to agree to the courses of action and the goals of the project. They need to be part of actions taken as well as take on part of the responsibility
IRRIGATION AND REFORESTING PROJECT - MATARANI (PERU)
GANDHI, BLESSED TERESA OF CALCUTTA…AND THE INTERNATIONAL COOPERATION
If we do not share common ideas that stand behind cooperation actions, the latter will fail
A YEAR IN PERU AHEAD OF US
Many small people at many small places doing many little things will change the face of the world
ON LOCATION - JOSEPHINE FROM AREQUIPA
I am happy about each child that is fed and has clean hands
INTERNATIONAL VOLUNTEERING: ADVENTURE, BUSINESS, COMMITMENT?
We would like our volunteers to be influenced by the experience in a vital way
VOLUNTEERING FROM GERMANY
(AND SPAIN)
Offering a general framework for projects of cooperation that will facilitate encounters and experiences that could change the way we live.
VOLUNTEERING FROM PERU
We hope that the desire and enthusiasm with which you start work are maintained throughout your stay with us
Year 2009
CexDe Nr 24 October - December
FRUITFUL VISIT
There is much left to be done, but it does not matter if we all walk together in the same direction
"LA MANSIÓN I": A TOWN, A SCHOOL. HISTORICAL REVIEW
The Educational Institution it's attending 115 children, it counts with 8 teachers and administrative personal
TRAVELLING IN A DIFFERENT WAY
The trip was the first step of a long journey
DIFFICULTIES AND HAPPINESS ALONG THE WAY
Traveler, there is no road; you make your path as you walk
THEOPRAX – A METHOD OF TEACHING AND LERARNING IN CONTRAST TO 'CONSUMERISM IN CLASS'
The didactical idea behind the TheoPrax method is a mix of lectures, group work and projects
PROJECT DAYS AND CHARITY RUN AT THE ROBERT-BOSCH-GYMNASIUM LANGENAU (GERMANY)
The projects were a good beginning for our charity run with the theme "fLoH- for a life without hunger".
RIGHT TO LIVE
A society that does not defend life from its origin till its natural end is an ill-society
GLOBALIZATION WITH A HUMAN FACE
Solidarity, so, far from being an ethical imperative, is the verification of interdependence
A SCHOOL PARTNERSHIP - A DREAM COMES TRUE FOR THE RBG
We would like to have a longterm partnership with room to exchange thoughts and ideas and not only organzing fundraisers
HAPPY 2010?
Be more supportive with those who are permanently in crisis
SOLIDARITY AS ENTERTAINMENT
Do you wish to help and to change the world? Don't strive to do it: just attend the charitable dinner or have whatever Médicos Sin Fronteras recommend.
CHRIST BLESS THIS HOUSE
Children are helping children in need
Year 2008
CexDe Nr 20 October - December
THE WHITE BOOK
It is about an study of the third socialcivic sector of the Catalan reality, that is to say, about non-profit private entities
DEALING WITH THE EFFECTS
OF A GLOBALIZED WORLD
Measures must be taken to give a fair chance of coexistence
A DIFFERENT YEAR......
THAT I WILL NEVER FORGET!
Love until it hurts
TRUST
Trust and positive thinking are an inalienable condition to live as a human being
HIV – FROM A DIFFERENT ANGLE
wealth = treatment and staying alive;
poverty = illness and dying
FROM AREQUIPA (PERU) (2/2)
¿CÓMO ESTÁS, GRINGUITA?
The open mindedness, the affability, the warm-heartedness and the zest for life of the Peruvians
TO LET ONESELF BE TOUCHED
A globalized solidarity is not only a question
of love but a question of justice
INTRODUCING CIESCU
The main goal of CIESCU is to contribute to reducing poverty in the long term by effectively using different and available resources
FROM AREQUIPA (PERU) (1/2) THE PROJECT: "LA MANSION: EDUCATION VERSUS UNDERNOURISHMENT"
A lot of the school's students are undernourished or malnourished. Almost all of them suffer from parasites.
A PROBLEM THAT IS NOT NEW
How to support certain salaries for some time if there is not an own source of income nor state support?
THE PATH TO TRUTH IS AN EXPERIENCE
Each person is called to accept and to exercise the truth, to do good from his/her freedom
TO BE DEAF IN PERÚ
there's a feeling that a deaf person cannot work because he or she does not listen, which is not true
Year 2007
Christmas Card

CexDe Nr 16 October - December
A PROBLEM THAT IS NOT NEW
How to support certain salaries for some time if there is not an own source of income nor state support?
THE PATH TO TRUTH IS AN EXPERIENCE
Each person is called to accept and to exercise the truth, to do good from his/her freedom
TO BE DEAF IN PERÚ
there's a feeling that a deaf person cannot work because he or she does not listen, which is not true
PERÚ: NEW STAGE
We have formalised a working alliance with the Peruan NGO CIESCU
THE ABDUCTED EXPERIENCE
Real experience is what it forms us as human beings. Solidarity is also at risk of being abducted
FROM CENTRAL ASIA (2/2)
All the village inhabitants talk about "the yellow house"
PEOPLE ARE BOUND WHEN DOING
SOMETHING TOGETHER
We would like that our NGO was a means
of doing something together with sense
A CURB TO THE VOCACIONAL ANSWER
Great battles are played on instincts, which are magnificent forces that we have
FROM CENTRAL ASIA (1/2)
Its sad to see that nothing happens patients with neurological problems for handicapped children
LOVE AND DISCIPLINE, INCOMPATIBLE?
A true love implies discipline, mainly with oneself
FEAR OF INSECURITY
Security today precedes any other more precious right or obligation
IN THE CALL OF THE SOUTH
I always wanted to be able to closely accompany the human pain of the most disadvantaged people
Year 2006
CexDe Nr 12 October - December
THE CHARITY IN OUR DAYS
Only an operative charity is a truthful charity
REFLECTIONS ON FORGIVENESS
When the human being is used as a mean, the experience of human love ends up being denied and frustrated, and the conflict is unchained.
IN CALCUTTA I WENT TO SCHOOL
Everybody transmit a special true happiness coming from inside and asking nothing for it
Year 2005
Christmas Card

CexDe Nr 8 October - December

CexDe Nr 7 July - September

CexDe Nr 6 April - June

CexDe Nr 5 January - March
Year 2004
CexDe Nr 4 October - December

CexDe Nr 3 July - September

CexDe Nr 2 April - June

CexDe Nr 1 January - March